New "Price Finder"
Application for QuickBooks
New "Price Finder" application for QuickBooks developed by Xinfosystems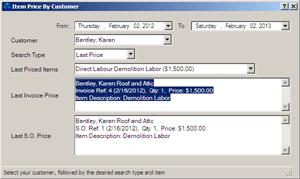 Xinfosystems is the exclusive provider of this new application that integrates with your QB and will save you time and money searching through invoice copies for the price to charge your customer.

If you are a wholesale or retail enterprise and use QB to do Sales Orders or invoicing then this application is a must. As you enter a customer on a sales order and add a product, this application will find the last price charged to this customer for this item. It will also show the date of the last sale as well as the item description. You can control the time line for the price search in the QuickBooks sales history by a date range or by the number of days to search back. Click here for more information.

All materials, and designs © Copyright 2015 Xinfosystems Inc. All Rights Reserved.
Website developed by Xinfosystems Inc.